Our development services are tailor-made for individuals and companies. Our goal is to support your ideas and help them grow during the startup or expansion phases
Business Plan
From 1.100 €
The basic ingredient for a successful business!
The Business Plan is the fundamental starting point for starting an activity, the map that anyone should follow to start a new project or develop new aspects of their business. The Business Plan aims to increase the chances of a company's success by indicating the most correct direction to follow in financial planning and operational actions, taking into account both risks and opportunities.
Informal team
Start-up
Established companies
Checking the economic feasibility of your project
Accessing to funding and contributions
Developing and growing your business
Value Proposition Canvas
From 500 €
Value Proposition answers the question: why should potential customers choose your product or service?
We will help you identify the values ​​that distinguish your company and your offer. Our Value Proposition service will help you define and analyze the customer segments that your business wants to address and those that may be interested in your product and service offers. Unlike the classic market analysis, through the work on Value Proposition, the Target Client is analyzed from a qualitative point of view, to help the company to refine its proposal according to the needs of the Target Client.
The end result is an offer of products and services tailored to your customer.
Informal team
Start-up
Established companies that want to expand their business
Business Model
From 400 €
Find and enhance your strengths!
Finding a place in the market is just possible for those who can implement innovation in their business and create value-added to their clients. It means being successful in building up innovative business models, which implies redefinition and rethinking process for each main corporate activities (production, distribution, commercial and communication), making lighter the business looking for new synergies and avoiding nonrelevant departments.
An overview that allows us to focus on opportunities and problems. The Business Model service is an indispensable tool for designing (or re-designing) the business model of your project or company. In addition to analyzing the key aspects (resources and activities, partners, distribution channels, customer segments, costs and revenues) it is essential to present yourself to potential investors simply and effectively
Informal team
Start-up
Established companies that want to expand their business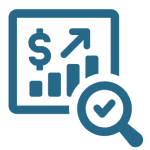 Business Clinic
From 500 €
The consulting of an experts team for your project
The business clinic is an experimental consultancy format for the analysis of an idea, a project or a company. Especially useful for defining strategies and objectives with the support of a multidisciplinary group of experts. This is a Management Consulting meeting lasting 2 hours, during which a group of experts selected based on the needs of the beneficiary, analyzes the project and provides guidelines for the consolidation of strategies and the achievement of objectives. The objective of the Business Clinic is to deepen the technical, social, environmental, commercial and financial-administrative characteristics of the business project.
Start Up
SME
Associations
ONG and no-profit who intend to deal with industry experts
Informal team
Freelancers
Strengthening the weak business model
Intercepting the demand and the reference market
Supporting networking and internationalization activities
Ensuring a strategic comparison on specific verticals
Credit access
From 1.300 €
The realization of good ideas also requires the availability of financial resources.
To carry out your Own project, financial resources and technical and transversal skills are necessary to advance credit requests. This service aims to provide social enterprises and entrepreneurs with the necessary support to identify and approach the most appropriate financial service providers and to discover the most useful services and tools to best present their project.
Social companies
Individual entrepreneurs and freelancers
SME
Find the appropriate funding and understand how to use it
Present a good financial plan linked to the project idea