We believe in the strength and value of associations and those who create a positive social impact. Our services are also designed to support the reality of the third sector.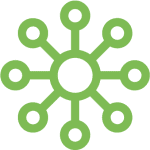 Impact Measurement
From 4.500 €
Measure and share your impact
This service is designed for social enterprises that want to monitor their social, financial and environmental performance concerning their mission and their orientation. The company will be accompanied in the identification of a series of indicators that will be monitored over time. The system of indicators at the end of the path will be internalized by the company, a data collection and monitoring system will also be built to observe the set of values ​​such as: income, innovation, increased awareness, cohesion, trust and sustainability.
Social enterprises that want to monitor their activities and have elements to share with the public
Provides narrative data – quantitative and qualitative – to monitor and present the activities and the positive impact created